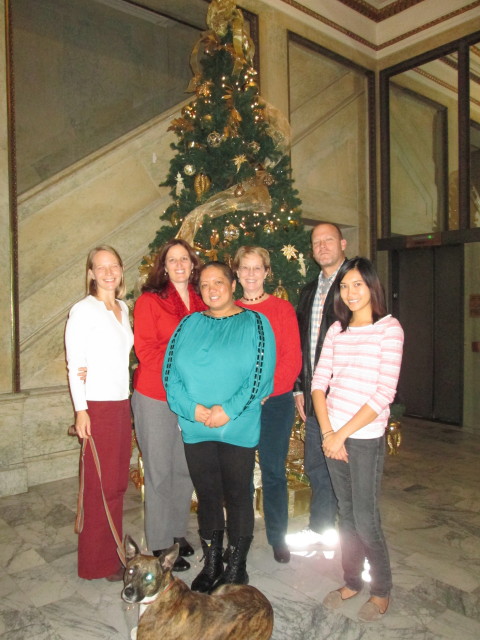 Darin Lounds, Executive Director
Darin is the Executive Director of the Housing Consortium of the East Bay (HCEB), an Oakland-based nonprofit with a mission of creating inclusive communities fpr people with developmental disabilities or other special needs through quality affordable.  Darin Lounds brings nearly 20 years of experience in various capacities within the field of supportive housing.
Darin's efforts in supportive housing have focused on developing and sustaining housing for adults with developmental disabilities, homeless adults with serious mental illness and/or substance use, homeless families, and the formerly incarcerated. In all instances, a commitment to Housing First principles has contributed to housing success for these populations.
While at HCEB, Darin has overseen the development and operation several supportive housing properties, including Lincoln Oaks Apartments (LOA) in Fremont, the Bay Area Housing Plan's (BAHP) homes located throughout Alameda and Contra Costa counties, Magnolia Terrace in Emeryville, the Ashland Neighborhood Stabilization homes, as well as tenant support services throughout Alameda and Contra Costa Counties.
For the past decade, Darin has volunteered on several non-profit Boards of Directors and is currently serving the Alameda County Developmental Disabilities Council and East Bay Housing Organizations (EBHO).
Revised: 02/13/2012
Brianne Seinhauser, Project Manager
Brianne Steinhauser joined HCEB as the Project Manager for HCEB in 2008, after eight years of residential and institutional architecture experience, with a focus on affordable housing and sustainable community development. She has worked as a Project Manager in architecture for numerous student housing and affordable multi-family housing projects, spent years as a Designer & Drafter, and spearheaded the LEED certification process of a small community center in Fresno, CA as a LEED Accredited Professional.  This experience, along with membership on the Board of Directors of Abode Services, volunteer and personal experience in construction, housing design, and advocacy brings a holistic approach to the development of HCEB's projects.
Brianne leads HCEB's housing projects in development.  In addition to managing the process from site acquisition through the completion of construction and loan documentation, she pursues housing opportunities with other non-profit developers, including negotiating set-aside units and development partnerships; evaluates project feasibility via initial proformas and financial projections; participates in advocacy and educational awareness of HCEB's work with jurisdictions, communities, other non-profits; and represents HCEB at committee meetings, conferences, lectures and networking events.
SELECT HOUSING PROJECTS
 Jack Capon Villa – Project manager for a 19-unit apartment in development for adults with developmental disabilities.  Alameda, CA.
Ashland NSP – Project manager for 3 scattered-site single-family homes for MHSA-eligible adults through the Neighborhood Stabilization Program and CalHFA.  Alameda Co, CA.  All homes will be GreenPoint Rated.
Magnolia Terrace – Project manager for a 5-unit apartment in development for adults with developmental disabilities.  A case study for the GreenPoint Rated Existing Rehab pilot program, and receiving grants from Green Communities and NEA. Emeryville, CA.
Querencia Place – Project Manager (Architect) for 10-unit apartment for adults with developmental disabilities. Manteca, CA.
Edes Avenue B – Project Manager (Architect) for 28 units of family housing for Habitat for Humanity. Oakland, CA.
Sara Conner Court – Construction Administration (Architect) for 57-units, 4 buildings of affordable housing. First Greenpoint Rated affordable multi-family housing project in Alameda County. Hayward, CA.
Jacee Santos, Housing Specialist
Jacee Santos joined HCEB as our Housing Specialist in December 2011.
Jacee has many years of experience finding housing for the homeless, MHSA participants and the low-income community.
Jacee currently works with Bay Area Community Services on their Oakland Project Connect and North County projects, specializing in housing placement, advocacy, and support to 70 clients.
Farzan Sharifzada, Resident Manager
Joan Uhlig, Bookkeeper
Joan joined HCEB in October of 2011. She provides book keeping and administrative support for the agency. Joan is a graduate of Cal State Hayward (East Bay). Joan has over 15 years experience doing bookkeeping for property management, non profits, and other small businesses.
Joan was born and raised in the East Bay. She was raised with a strong ethic of giving back to your community. She has volunteered over the years for various school, scouts, music, and athletic organizations that her two boys have participated in. When not working, she can usually be found walking her dog, Maddy Midnight.
Clay Harada, Program Assistant
As HCEB's Program Assistant, Clay Harada is the first point of contact between the organization and current and potential tenants. His housing services support begins pre-application and move-in, and continues throughout the individual's tenancy. Clay's skills and experience assist consumers, marginalized by their special needs and extremely low incomes, attain their right to safe, inclusive, affordable housing.
Clay provides individual housing counseling and education by discussing credit requirements, helping consumers create housing budgets and define their housing needs and preferences. He continues his assistance through the housing search and move-in process by coordinating available housing subsidies, and monitoring "best-fit" housing availabilities. Through mediation of tenant housing issues, education on tenants' rights, and cultivation of productive relationships with landlords, property management, and Housing Authorities, Clay not only guarantees that all parties involved are supported, but also ensures that tenants maintain their housing.
In addition to providing individual housing support, Clay operates the Housing Connection, an e-mail list for housing resources for persons with developmental disabilities. He tracks Section 8 list openings, rental and homeownership housing availability, roommate opportunities, and other relevant housing news. Subscribers of Housing Connection receive notices of these prospects as soon as HCEB learns of them.
Clay also provides administrative, general office, and accounting support to the organization, Executive Director, and Board of Directors. He is the primary contact for prospective and on-going donors, and serves as the manager of HCEB's website, and contributes to the annual Housing News newsletter.