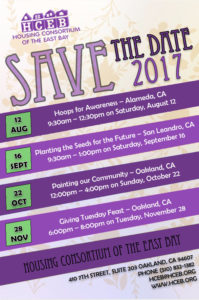 Get excited! HCEB is hosting four community events this year, and you're invited! Come to one or come to all, we'll be ready for you! Over the next few months, we'll be holding the following:
1) Basketball tournament at the Jack Capon Villa, Alameda
2) Garden fundraiser of our newly renovated home, San Leandro
3) "Paint Afternoon" at the Oaklandish store, Oakland
4) Giving Tuesday Dinner at the Henry Robinson Multi-Services Center, Oakland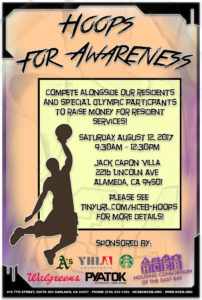 Get your blood pumping and join Alameda Special Olympics members and HCEB staff as we spend the morning shooting hoops at the Jack Capon Village. Teams of 5 will participate in skills competitions: dribbling, free throws, trick shots, and more! Teams will be formed by us, and you'll meet your teammates on the day of. If you have some friends you want to form a team with, just make sure to choose the correct option when registering. Snacks and drinks will be provided. Sign up here!
More of a cheerleader than a player? Come support in person or donate to your favorite player! All proceeds will go towards Resident Services at JCV. The team who raises the most money wins tickets to the A's game with the Astros on Sept 9!
Please see our photos on Facebook!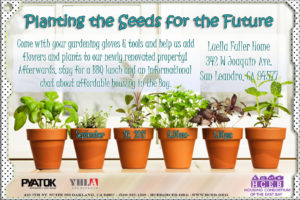 Come celebrate the opening of our newly renovated property in downtown San Leandro. Bring your tools and gloves to add a personal touch and a lasting mark with our residents by helping us bring color to our garden. After a fun morning of flowers and planter boxes, listen & participate with our panel of speakers on the world of affordable housing and HCEB's impact on the current landscape. Continental breakfast will be provided and BBQ lunch will follow the event.
Please register here by Sept 13th so we know how much food to prepare! Make sure to answer the food allergy question so we can make sure to accommodate everyone! Any questions? You can either send us an email hceb@hceb.org or reach us by phone at 510-832-1382 x111. Hope to see you there!